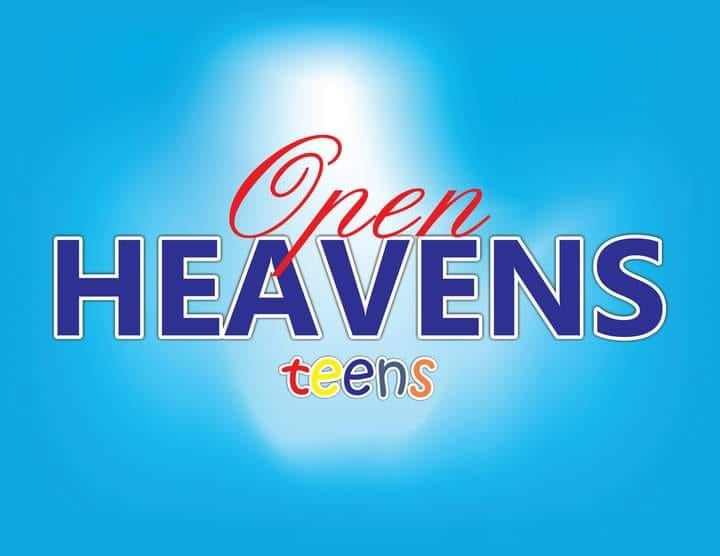 Open Heaven For Teens 17 January 2023 – Flee From Lust
Click HERE for Previous Open Heaven Devotional for Teens

TOPIC: Flee From Lust [Open Heaven for Teens 17 January 2023]

MEMORISE: Flee also youthful lusts: but follow righteousness, faith, charity, peace, with them that call on the Lord out of a pure heart. 2 Timothy 2:22


Also read: Open Heaven 17 January 2023 – The Living Sacrifice


READ: Genesis 39:1-12


1 And Joseph was brought down to Egypt; and Potiphar, an officer of Pharaoh, captain of the guard, an Egyptian, bought him of the hands of the Ishmeelites, which had brought him down thither.


2 And the Lord was with Joseph, and he was a prosperous man; and he was in the house of his master the Egyptian.


3 And his master saw that the Lord was with him, and that the Lord made all that he did to prosper in his hand.


4 And Joseph found grace in his sight, and he served him: and he made him overseer over his house, and all that he had he put into his hand.


5 And it came to pass from the time that he had made him overseer in his house, and over all that he had, that the Lord blessed the Egyptian's house for Joseph's sake; and the blessing of the Lord was upon all that he had in the house, and in the field.


6 And he left all that he had in Joseph's hand; and he knew not ought he had, save the bread which he did eat. And Joseph was a goodly person, and well favoured.


7 And it came to pass after these things, that his master's wife cast her eyes upon Joseph; and she said, Lie with me.


8 But he refused, and said unto his master's wife, Behold, my master wotteth not what is with me in the house, and he hath committed all that he hath to my hand;


9 There is none greater in this house than I; neither hath he kept back any thing from me but thee, because thou art his wife: how then can I do this great wickedness, and sin against God?


10 And it came to pass, as she spake to Joseph day by day, that he hearkened not unto her, to lie by her, or to be with her.


11 And it came to pass about this time, that Joseph went into the house to do his business; and there was none of the men of the house there within.


12 And she caught him by his garment, saying, Lie with me: and he left his garment in her hand, and fled, and got him out.


MESSAGE:


It is not enough to say NO to advances from the devil, fleeing is the best option. This is why Apostle Paul warned in 1 Thessalonians 5:22:
"Abstain from all appearance of evil."


The Bible did not record that you should say no; instead, it says run as fast as you can. So, if you have friends who tell you they lie to save themselves from getting punished and that it works for them, I implore you to cut ties with them now before you also master the act of telling lies.


As the saying goes: "prevention is better than cure." Having once wasted my time toying with sin in my youth and now living on the path of holiness by the grace of God, I can boldly tell you as a father, that it is better to live a holy life. I pray that the Lord will give you the courage to flee instead of just saying NO today in Jesus' name.


KEY POINT


Why leap when you can run


BIBLE IN ONE YEAR: Exodus 5-7


HYMN 15 – Onward, Christian Soldiers

Onward, Christian soldiers!
Marching as to war,
Looking unto Jesus,
Who is gone before;
Christ, the Royal Master,
Leads against the foe;
Forward into battle,
See His banners go.

CHORUS
Onward, Christian soldiers!
Marching as to war,
Looking unto Jesus,
Who is gone before.

At the name of Jesus
Satan's host doth Ilee;
On then, Christian soldiers
On to victory!
Hell's foundations quiver
At the shout of praise:
Brothers, lift your voices,
Loud your anthems raise.
Like a mighty army
Moves the Church of God:
Brothers, we are treading
Where the saints have trod.
We are not divided,
All one body we
One in hope and doctrine,
One in charity.
Crowns and thrones may perish
Kingdoms rise and wane;
But the Church of Jesus
Constant will remain:
Gates of hell can never
'Gainst that church prevail;
We have Christ's own promise-
And that cannot fail.
Onward then, ye people,
Join our happy throng;
Blend with ours your voices
In the triumph song:
"Glory, praise and honour,
Unto Christ the King", –
This, through countless ages,
Men and angels sing.

Daily Devotional for Teen's guide was written by Pastor E.A. Adeboye, the General Overseer of the Redeemed Christian Church of God, one of the largest evangelical church in the world and also the President of Christ the Redeemer's Ministries.


Flatimes Notice Board: Until you are born again, God ever abiding presence will never be with you. You must be born again to enjoy continuous victory. Please say the displayed prayer below in faith:


Lord Jesus, come into my life. I accept You as my Lord and Personal Saviour. I believe in my heart You died and rose from the dead to save me. Thank You Lord for saving me, in Jesus' name Amen.


If you just prayed the prayer of salvation online please send your testimonies and prayer request to info@rccg.org, +234-1-8447340, +234-0-7098213112.